Regulated Forex Brokers For South African Traders
Reviewing All The Local Brokers
Fully Regulated By FSB & Others
Some Offer Welcome & Loyalty Bonuses
Trading Training for Beginners OR
ECN/STP Accounts & DMA for Experienced Traders
Affiliate and IB Account Links For Online Publishers
This & tons more Below
Or, IF you just want the best then I suggest.
CM Trading
Axitrader
Choosing the right broker is a tricky task with all of the scams going around and even with the licensed ones there are terms and conditions that you need to know about (especially around bonuses and withdrawing).
Your choice of a regulated broker will be one of the most important ones you make when deciding to trade the markets and you should definitely pay special attention to these brokers offering their services in South Africa as they've taken the time to conform to regulatory authority.
More importantly though, the trading strategy that you follow will have an impact on your choice of broker. If you would like some help and advice on which strategy to follow and so which broker is the right one for you then sign up for my "Better Trader" newsletter on this page. Reply to the email I send you and let's trade together.
Disclaimer: I'm an Introducing Broker with these brokers and will earn a commission if you decide to join them using the links on this page. This doesn't cost you anything extra and I've negotiated the smallest percentage profits with each of them so that you can get the best possible deal.
My Top FSB Regulated South African Broker is CMTrading
CMTrading is a new broker that's operating from South Africa. They're regulated with the FSB with number 38782.
With a welcome bonus that goes all the way up to $2000 its easy to trade using their money if you're just starting out and want some added funds. The best thing about them is that they offer local deposits in South African Rands to fund your trading account.
This makes it easier for us Saffers to start trading. But more importantly getting your profits out is so easier as its a normal local EFT to your bank account and not a wire transfer where you have to wait a week so you'll get it to spend it faster (just remember there's no short cuts to a being a professional trader and you have to take the time and effort to educate yourself with what's important.
You'll end up paying for it anyway in blown accounts. I've recently written a short review, if you have any experience with them, I'd love to hear it. Click here and tell me what you think of them
They have an easy to sign up for sub-affiliate program so that you can also make money passively from referring other affiliate marketers to earn a passive income.
orbex
I've only just discovered Orbex and as a broker I'm really impressed with their offering.
Calling themselves the best forex broker in the world sounds like a lofty claim to make and I intend to find out if they live up to their reputation.
They've got a wealth of educational resources on their site, webinars and they seem to understand the churn rate, market maker policy of most other brokers with B-Books and trading desks.
I'm even tempted enough to start a live account soon and report back here on what I find.
Newly Regulated AVATrade
Offers Bitcoin Trading
AVAtrade is the latest international broker that's regulated by the FSB (FSP Number 45984.)
They're also one of the few brokers that offer Bitcoin trading.
AVATrade also makes it easier for South African traders to enter the market especially with the funding of your account using PayPal or a deposit into a local South African bank.
This makes them one of the more convenient brokers to deal with. I do have a live account with them, but since the training I'm following uses the New York close charts and AVA offers a GMT server, I can't follow the signals I receive using their charts.
I hope to trade my account with them when I get more confident in my ability to trade all charts and time-frames.
And like all good modern brokers do, they also offer a sub-IB program so that you can earn a passive income from referring other traders as well as other IBs.
Sign up as an affiliate here and earn some passive income from your referrals.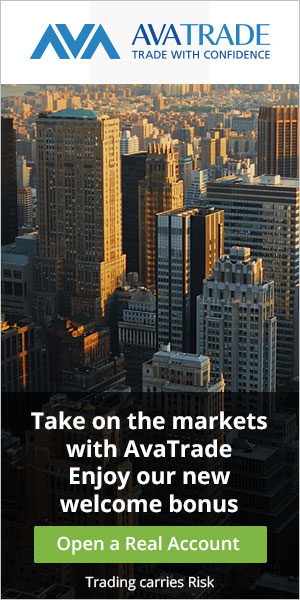 Axitrader is the broker I first started trading seriously with
AxiTrader was the recommend of the mentor I chose and in since I've been trading with them they've been great and only messed up once with the price feed to their server. It was all fixed very quickly though. While they're also not regulated by the FSB, they are a broker that's trusted by many traders around the world and have a trustworthy reputation.
I'm yet to withdraw any money from them (so I can't tell you about this part of their service yet.) I written a review of their services though, click here to read it.
New legislation has made it a bit harder to open an account at Axitrader, you now need two forms of identity (like an ID document in addition to a passport) to open an account but regardless of the admin issues, they're a terrific company though and I highly recommend trading with them.
IronFX is the broker I'm trading a live account with at present
IronFX is one of the most regulated brokers in the world (FSP no 45276) and for particular reasons of their trading platform, I've decided to trade my current live account with them. I trust them (up to now).
Their Research & Analysis team get's global recognition by the most well respected Financial media of the world. There daily market analysis is 100% FREE for clients.
Being a globally trusted brand, IronFX offers instant execution with no slippage or delay.
They offer the best spreads from 0 pips, with your&1 account you can trade 15 platforms and they offer over 200 tradable instruments.  IronFX's achievements has been recognized by multiple international awarding bodies.
Probably the best reason for us South African's is that they have an office in Sandton and copy trading, a way to earn a passive income while someone trades your account.
IG is a new broker I'm partnering with
They began in 1974 as IG Index, providing a way for retail investors to speculate on the price of gold. Since then they've continued to change the face of trading, establishing themselves as a market leader around the world.
They're secure
As a large multinational organisation we have strength in resources and stability, with a well-capitalised, debt-free balance sheet and consistently strong growth.
They're a market leader
With 40 years' experience they are the No.1 global provider of financial spread betting and CFDs, and hold a market-leading position in many countries, including the UK, Australia, Singapore and France.
If you have any questions, need any help or would like to leave a message, please do so below:
Another SA Based Broker that's recently got my attention
A new broker that got in touch with me is Blackstone Futures, I had a conversation with the CEO and he seems committed to making an impact in the South African market.
They offer a promising alternative to the other company here in SA, I'm beginning to create a relationship with them and look forward to seeing how they develop. I'll update this post when they settle more and start offering the MT4 platform, which I don't think they do at present.
I also found out that CMTrading is trading under Blackstone's license, so you're effectively trading with Blackstone anyway. Its funny how this corporate culture works but anyway, they also offer a SUB-IB account for you and you can sign up by clicking here.
Finally, if you just want to try them out, open a demo account here.
XM is offering a R347, no deposit bonus to try out their services.
Many brokers are now offering this risk free way to give you a taste of their services.
You probably won't get rich from this free account, you'll need a decent size account of at least $500 if you want to start making some real money but if you haven't ever traded before or you want to see what their service is like, sign up with XM.
Its also a great way to try out their live server for free, which is normally different to a demo account server, before you decide to commit.
They do have some interesting loyalty bonuses that sound like something to investigate.
I haven't yet, but if you trade with them and take advantage of these, please let me know about how they work.
InstaForex Offers A No Deposit Bonus of $25
Third Time Lucky and Instaforex, Asia's favourite broker also offers a no deposit bonus. Be wary of these promotions as some very onerous terms and conditions apply.
I would only recommend it, if you're absolutely desperate to start trading forex and you have no capital of your own to trade with. Who knows, you may get lucky and turn that measly amount into some serious wealth.
Otherwise you'd be better off either taking their 250% bonus when you deposit your real money or give some love to Liverpool, the Premier League team I follow.
Social Trading With eToro
eToro is one of the first companies to offer social trading. What's that? Its like combining a trading platform (like MT4) and Facebook.
It allows novice traders to follow the trades of other more professional or traders with more experience and allows you to profit without knowing how to trade.
The first trading account I ever owned was an eToro account and even though I don't trade it anymore, it is still there and I'm sure that one day I'll return to it. eToro
Join now and get a $200 deposit bonus to invest with!
No Deposit Bonus From Markets.com
Brokers are going crazy these days offering no deposit bonuses, you saw my favourite one earlier but here Markets.com are also offering a $25 account for mahala. Who can resist?
These are the brokers that I've tried out,
I'll add in some more as I get to try them out and see how they operate.
I believe more will be coming into the local market now as the number of South African's that are Forex Trading is increasing every day. How's your trading going?
Please take care with the brokers you eventually do choose, if you would like some help, please contact me,
Browse through the latest articles that these broker's have provided and use it to make a decision on which broker you're going to trade with.
Thanks for reading, I hope that you get in touch
Haroun Kola
WhatsApp: (082) 561-4455
PS: Here's a link to a totally unrelated article.
Latest Blog Posts
I constantly keep this section of the site updated. Here's the latest news from these brokers and here is where you can find all the articles.
Recently, EUR/NZD has been moving downwards. As I expected, the price tested the level of 1.5466 in a high volume. According to the 30M time frame, I found response from sellers at the price of 1.5536 (yesterday's point of control); sellers are in control over...
read more